Bee-Line Bus
By Hanna Nilson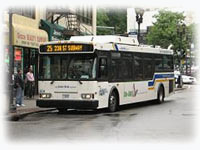 A small fleet of 60 paratransit and 356 fixed route buses; the Bee Line Bus System operates on a local area, servicing Westchester County and Northern Bronx County, New York.
Founded in 1978, the Bee Line Bus Company is operated by the Liberty Lines Transit Inc., and has an estimated 55,000 daily ridership. Most of Bee line bus routes are concentrated in cities such as Peekskill, Ossining and Mount Kisco. Other major cities of Westchester County, otherwise known as the TransCenter; include Yonkers, New Rochelle and Mount Vernon.
You may find it useful to know that Bee Line Bus Routes also operate on the borders of the Bronx. In fact, practically every subway line in the Bronx is served by at least one Bee-Line route. This allows Westchester residents a convenient connection into New York City. To further promote this commute, Bee-Lines Bus riders are allowed to pay for their fare with a MetroCard…Pretty nifty, huh? The MetroCard is perhaps one of Bee-Lines most effective benefit. The 2007 Annual Report for the Bee-Line bus system, predicts that by 2010, Bee-Line MetroCard riders will continue to make-up over 56% of the 32.2 total Bee-Line commuters.
Bee-Line bus systems are not only a convenient mode of transportation for New York and Westchester County residents, but they're also well equipped to handle those in need of a little extra help. Bee-Line buses have recently upgraded all of their buses to be wheelchair accessible. In a recent editorial Bee-Line Improves Service Westchester County Transportation Commissioner Lawrence Salley says, "We have seen a change in ridership trends and increased ridership, especially among wheelchair-using passengers…With the recent delivery of 30 new buses and the schedule changes starting this Monday, we will be better able to serve the bus-riding community." Surprisingly, this is not the only major recent improvement for the Bee-Line Bus Company.
In alliance with Westchester County's Shared Services Program, Bee-Line buses are being recycled! County Executive Andy Spano says: "We have identified 57 used shuttle and paratransit vans to give to local governments and districts to save them money. The vans are done with their life as transit vehicles but now we have found a second use for them." It's good to know that these vehicles are being reused as part of the county's program to share services with local governments and schools. In the end; this is not just a more efficient and generous alternative, but it will also save a large portion of taxpayer money.
Other major improvements are well on its way. For example, the Rapid Bus Transit Planning Studies are already being considered for the Central Avenue Corridore. As a more effective transit service to provide new mobility options, reduce dependence upon automobiles and contribute to the improving air quality, the Central Avenue Bus Rapid Transit Assessment Study proposes that BRT vehicles may use exclusive lanes for all or part of their route. This would not only help to avouid traffic but to provide better customer friendly features including more attractive and comfortable stations, prepaying for fares at stations (instead of on the bus) to speed boarding, and boarding through multiple doors, like on a train, to speed trips. To find out more about Bee-Line buses and The Bee-Line Bus System, please visit www.westchestergov.com.


Acadian Bus Lines

Bus Lines Resources